Are you seeking an Energy Vortex to energize and rejuvenate you?
Then you are lucky to have landed here, where you will find an energy vortex that you have been searching for.
I am sharing with you that my visit to a new energy vortex was a part of my IGG-Verified Energy Vortexes Project.
I went to Chitralekha Udyan with my team to check whether it was an energy vortex or not.
By checking energetic vortexes, my purpose is to make you aware of such places around your area, and you can visit such places and enjoy that high energy.
When you are in high energy in such places, you will go away from the mind and be yourself.
When you are yourself, in that case, you will be free from any other anxiety or depression.
In this article, you will learn about Chitralekha Udyan in Tezpur city in Assam.
About Chitralekha Udyan
Chitralekha Udyan, also known as Cole Park, is a remarkably scenic park in the heart of Tezpur, Assam (India).
Its name, "Chitralekha," pays homage to a renowned Agnigarh Aniruddha-Usha love tale figure.
The park has a rich history of organizing art competitions for nearby schools, owing to its diverse attractions.
This park has many features, including a serene water feature in the form of a lake that allows you to engage in rowing and paddle boating activities.
From a highly energetic perspective, I have shared how this place can add value to you in this video.
You can visit this place from Guwahati Airport (Lokpriya Gopinath Bordoloi International Airport). I have shared the Google Map link below.
Location
City: Tezpur
State: Assam
Country: India
How to Reach?
Google Map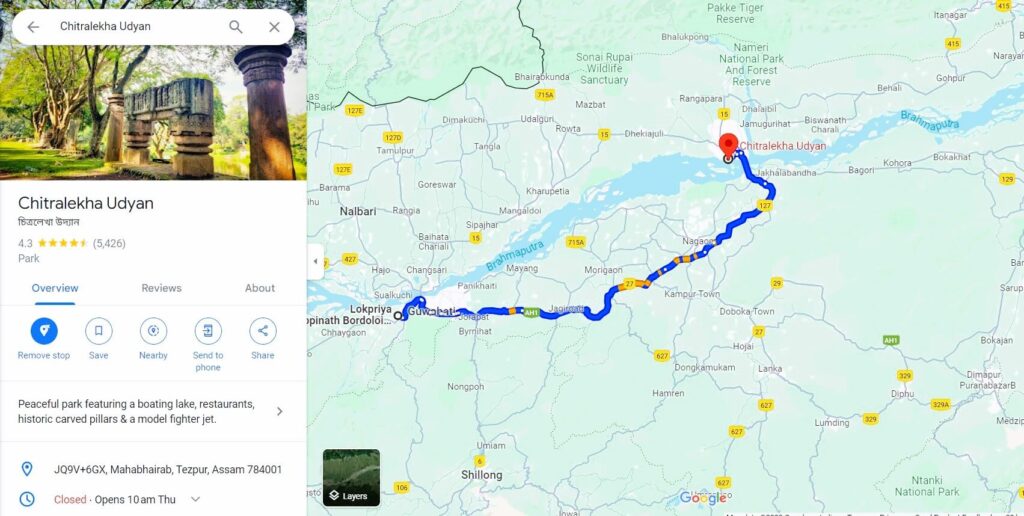 GPS Coordinates: 26°37'08.0″N 92°47'36.6″E
Google Earth
Chitralekha Udyan Google Earth
When I went to Chitralekha Udyan in Tezpur Assam, I found that the place was an Energy Vortex, full of nature and High Divine energy.
All places, all-natural places, do not have high divide energy. It is my experience.
This was the first place where you can see the place in the video above:
You can see the place
The water body
The huge trees
Nature
Birds flying
Birds swimming in the lake
What Will You Feel Here?
When you sit at such a place, you do not feel like going out of that area.
When you do not feel like going out of that area, it is the sure-shot sign of a highly energetic place.
Why Am I Taking This As a Project?
Why I am taking this as a purpose because:
I, with my Inner GPS team, help you find such places.
You can be free from your issues.
My idea is to start with one state and cover most of the states in India. Then, globally, I will discover energy vortexes.
What Did I Feel?
When I moved around the energy vortex, I found that there was no resistance, no resistance at all.
When there is no resistance, you feel that you are flowing; this is one of the criteria of an energy vortex.
When you visit such places, you will have all the anxiety, depression, and other mental thoughts moving away from you.
You feel you are situated; you are stable in yourself.
Why do you need such places?
You need an energy vortex
To elevate your energy.
To help you move away from the chaos of the city.
To find peace with chaos in your mind.
Wherever you are, you can elevate your energy.
You can visit such places, and you can see the nature around you.
You can open your arms and enjoy being yourself.
There is alignment of who you are and the energy outside you.
The inner and outer energy is fantastic at this point.
When you feel this is the right way to do it.
Significance of Chitralekha Udyan
Energy Level on the Scale of 10: 9
Energetically, Chitralekha Udyan offers you the opportunity to feel your presence and it takes you to a no mind state.
When you allow yourself to embrace the natural ambience of the exotic lake and greenery surrounding the ancient garden, you move beyond time and feel extreme peace and stillness.
The environment of the place gifts you the opportunity to be yourself and get lost into your existence.
This place is highly recommended for meditators and spiritual seekers for its serene and silent shade of high vibration energy field.
If you are going through Kundalini Awakening, then this place will help you facilitate your cleansing and purification process a lot.
How Can I Help You?
Suppose you want more such places if you want me to visit more such places in and around your city, do contact me.
Moreover, if you want your animals in your own homes or your office places to be in highly energetic zones, you can contact me.
I will help you elevate the energy, and that way, I will help you to enjoy:
High productivity
High professional life
High personal life
High relationship
When you are high in a relationship, your family will come together, and you will be in a high and happy state.
I invite every one of you to read my articles and check my videos, and let me know if you have any such issues in mind.
My idea and my purpose are to elevate you and be strong in your energy.
When you are strong in your energy, it will show in your personal life and will reflect in your personal and family life.
If you want laser-focused Inner GPS Activation, do contact me.
If you want more such places, if you want me to visit more such places in and around your city or places, do email me.
If you have any more such questions, do email me, and I will address all your questions.
For more such States or more such places, keep reading my articles and keep visiting and checking my YouTube channel.
Note: I am not going to any touristy place because most touristy places suck your energy from you and make you weak.